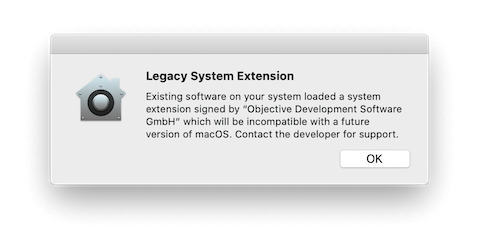 Starting with macOS 10.15.4 the above "Legacy System Extension" message is shown when Little Snitch is installed.
---
Is there an update of Little Snitch that's compatible with macOS 11 Big Sur?
Yes. The latest version 5 of Little Snitch is fully compatible with macOS 11 Big Sur. → Learn more…
Will I get the update for free?
If you have purchased a Little Snitch license after November 1, 2019, this license can also be used to register Little Snitch 5. If you purchased Little Snitch 4 before that date, you can get the upgrade at a reduced price.
Will Little Snitch 4 run on macOS 11 Big Sur?
Little Snitch 4 will not be loaded on macOS 11 Big Sur by default, but for the time being there's an option to manually override this system default.