This Technology Preview of Little Snitch is not yet feature complete. There are several known limitations you should be aware of before you install:
Installation
During the installation you will be asked to enable system extensions in System Preferences > Security & Privacy. After clicking on "Open Security Preferences", the same dialog will appear once again. This is a bug in macOS Big Sur.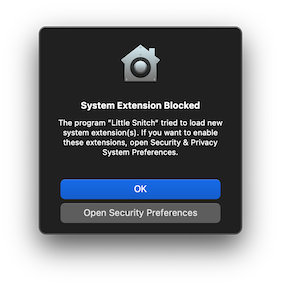 After clicking on "Allow…" in System Preferences > Security & Privacy, you will see a confirmation dialog containing two entries labeled "Placeholder Developer". These incorrect labels are a bug in macOS Big Sur. The checkboxes for both of these entries must be checked.
Known Limitations
Rules and settings from previous versions of Little Snitch are not yet imported. Little Snitch will therefore start with the default factory rule set.
Backup and restore of rules and settings is not yet implemented.
Code identity checks (usually based on code signature) are not yet implemented.
Automatic Profile Switching is not yet implemented.
Some UI components don't yet have their final appearance and layout.
Tips and Tricks
All data files are encrypted with a password which is stored in the System Keychain ("Little Snitch Encryption Key"). When you make a backup of the files in /Library/Application Support/Objective Development/Little Snitch/, make sure you also backup this password.
Traffic history is now recorded by a background process, even when Network Monitor is not running.
Feedback
If Little Snitch crashes or behaves in an unexpected way, please contact our support using the "Send Feedback" button above.
Make sure to include the following information:
Version number of your Little Snitch app.
A textual description of the issue: What did you do, what would you have expected to happen and what did happen.
Crash logs of Little Snitch components, which can be found in Console.app sidebar under "Crash Reports".
Logs from Little Snitch under /Library/Logs/ and ~/Library/Logs/.
Screen shots which describe the issue (if applicable).