Flexibits, the producer of Fantastical, recently released a new app called Cardhop: It's an app enabling you to manage your contacts by "using a simple sentence".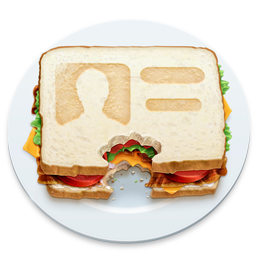 I've downloaded it some days ago and I'd call myself a fan of it already. It offers loads of great features which you can look up here. It has turned out that it works pretty well together with LaunchBar. In this article I want to show you three basic features of Cardhop that can be easily accessed via LaunchBar:
Creating contacts
Sending selected texts to Cardhop
Opening contacts
Create contact using Cardhop
In LaunchBar, select Cardhop
Press Space
Enter contact details
Press Return to send to Cardhop
Send selected text to Cardhop
Using one of the app's core features in LaunchBar has improved my workflow enormously. Whichever contact you are searching for, type in any info you know about this contact: Is it its name, website or the address? You can even search for a note you added in a certain contact.
Select text
Instant Send to LaunchBar
Select Cardhop
Open contacts in Cardhop
LaunchBar's abbreviation search allows you to quickly find the specific contact you're looking for with just a few keystrokes. If you then want to open that contact in Cardhop, you can configure LaunchBar to do so by following these steps:
In LaunchBar, open Preferences and go to Actions > Default Actions. Set "Contacts" to"Open Contact".
Open Terminal (located in /Applications/Utilities) and enter the following command:
defaults write at.obdev.LaunchBar ShowInAddressBookURLPrefix "x-cardhop://show?id="
Want to call John? Type in "call John" and the app will follow your instruction instantly. Write him an email through typing "email John" or send him a tweet with "tweet John".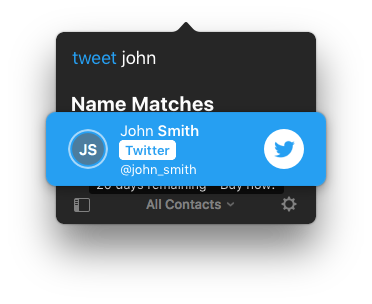 ---
All this is just an overview of how Cardhop can improve your productivity together with LaunchBar. Nevertheless, I recommend you try out the contacts app that offers a lot more features which are worth exploring.